---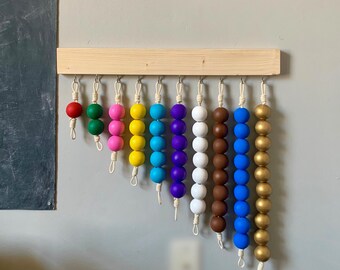 This JUMBO Montessori bead hanger was inspired by the traditional bead hanger used in primary mathematics.

It's a wonderful way to introduce toddlers to the Montessori bead stair; a material they will be formally introduced to within the next year or two. The beads are perfect size for toddler hands to grasp and count. This material can be used to explore colors, numbers, and begin simple number talks (example: "Look, if we have the red bead (1) and the dark blue beads next to each other (9) they are as long as the gold beads (10).") The addition of the shelf provides an opportunity for developing concentration through the fine motor skill of hanging the string of beads on and taking them off.

Jenna @montessori.homeschool.mama had the awesome idea to glue the regular sized bead bars on the shelf to provide a control of error.
---
To make your own set you'll need:
55 1.5" Wooden Beads
Acrylic Paint in the 10 Montessori Bead Colors (This set has 9 out of the 10 colors you'll need. Find gold paint HERE.)

#1: RED
#2: GREEN
#3: PINK
#4: YELLOW
#5: LIGHT BLUE
#6: PURPLE
#7: WHITE
#8: BROWN
#9: DARK BLUE
#10: GOLD

Skewers (to hold the beads while you paint them.)
10 Cup Hooks
1″ by 3″ piece of lumber cut to 21″ long.
The Process:
First I seperated my beads into groups so I wouldn't paint too many or too few a certain color. You'll paint:

1 bead red
2 beads green
3 beads pink
4 beads yellow
5 beads light blue
6 beads purple
7 beads white
8 beads brown
9 beads dark blue
10 beads gold

Next step is to paint your beads. Some of the lighter colors required multiple coats. How many coats you do depends on wheather or not you'd like to see the wood grain of the bead underneath the color. I painted the beads using the technique shown in THIS video, using the skewers to hold the beads so you can get full coverage.
After your beads are fully dried you can string them on the macrame cotton cord. I put a piece of tape on the end of the cord to prevent it from fraying as I strung the beads. The top and the bottom of the cord is secured using the hangman's knot. For the single red bead I needed about 26 inches of cord and increased the amount by 2 inches for each subsequent bead.
4. The shelf is up next! I made 10 evenly spaced pencils marks for where I wanted to drill.
***If you'd prefer not to make a shelf but still want the "hanger" effect, try 10 small command hooks lined up!
5. After you drill your holes, manually twist in the cup hooks.
6. Add the picture hangers to the back of the shelf and find a low place to hang.
---
Feel free to ask me any questions about the process. I can't wait to see your creations! 🤩